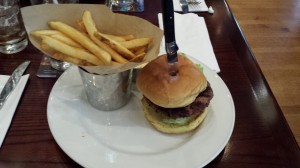 San Diego Burger Club went to the Hard Rock Cafe on 4th Avenue on June 12.  We had some mobile / smartphone 2-for-1 coupons and decided to give Hard Rock a try.  Mistake.
Right away Hard Rock started losing points for ambience.  We parked a few blocks away and it wasn't long before a crazy woman started walking behind us shouting something about "blue bloods" and other things I won't mention and didn't understand.  She wasn't the only crazy-looking-apparently-homeless-person who found that area to be a nice place to hang out either, though she seemed to be the most vocal.
So we arrive at Hard Rock and they immediately ask if we are with a convention.  Apparently they think no one goes there unless they are with a convention.  By the time the experience was over, we understood why.
The restaurant was not crowded.  Service was not particularly quick but it wasn't too bad either.  The food?  Basically we gave them a B-/C+, which was probably generous.  The fries were good.  The burgers were so-so.  Even with 2-for-1 coupons, it cost around $13 each.  NO WAY is it worth double that.
I have to call it like it is.  With Burger Lounge and Hodad's in the vicinity, Hard Rock is not really a place you want to go for a burger.