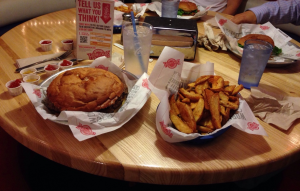 San Diego Burger Club went to Fuddruckers on Mira Mesa today.  We wanted to take advantage of their Fat Tuesday "3-Pound Burger Challenge", which promised 2 free meals, a t-shirt, and "undeniable respect from friends, family and colleagues" if you could finish the burger and a pound of fries in an hour.  Alas, the burgers got the best of us.  Along the way, Fuddruckers earned a C+ rating.
I would be remiss if I did not point out that there will always be a soft spot in my heart for Fuddruckers.  My son and I used to visit Fuddruckers frequently — always getting a 2/3 pound burger medium-well, playing Galaga, and sitting in the "King Booth".  Ah, those were the days …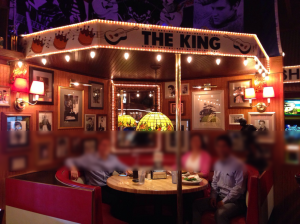 I have to confess, the "fries" at Fuddruckers have always been a disappointment.  They are really more like potato wedges.  They have nice seasonings on them, but they are too thick and are not crispy enough.  With whom exactly is this kind of potato supposed to be popular?  Please — Fuddruckers — bring in some thin fries, or waffle fries, or curly fries, or tater tots!  We found ourselves pining for some Smashburger fries instead of Fuddruckers' faux fries.
As for the burgers, most people found them to be nothing special.  One member thought there was not enough burger for their bun.  Those of us who tried the three pound burgers found the buns to be too doughy.  Also the three pound burger was undercooked for my taste.  They do not ask how you want the three pound burger cooked — presumably because they want to make sure it is cooked through.  I would say mine was medium in the middle, which is fine, but generally I prefer medium-well.  The three pound burgers were really thick, too.  Not so thick that you couldn't get your mouth around it, but thick enough to totally fill your mouth when you got a bite.  That made them challenging to eat.
Two of us tried the three pound burger challenge, and both of us finished about half of our burgers and maybe, being generous, we could say half the fries.  I actually found myself about halfway done with a little more than 30 minutes remaining.  However, having tried the Nicky Rottens Ultimate Burga Challenge, I knew I was standing on the edge of a precipice at that point — either you go all-in and force the rest down and feel terrible for the rest of the day, or you call it quits and have some semblance of being able to function in the afternoon.  Standing on that precipice, uncertain whether my stomach would hold the rest, I opted for the safer but much less glorious path, as did the other member who tried the challenge.  The manager told us that the last time they held a three pound burger challenge, 27 people tried the challenge and only 2 finished the burger and fries in an hour.
Most votes were for a C+ so that's what Fuddruckers gets today.  I was unable to defend my sentimental favorite, as the giant burger wasn't that great, the bun was doughy, and the fries were Fuddruckers' usual not-so-good fries.  At least we got to sit in the King Booth though!  I'll be back due to fond memories and due to my personal affinity for their 2/3 pound burger.  I'm not certain I can get my Burger Club friends to join me there though …