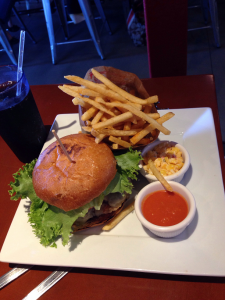 San Diego Burger Club went to Carnitas' Snack Shack today.  Zagat had recently rated it the best burger in San Diego, so we thought we would give it a try.  I have to say I did not have high expectations for this outing.  I had recently visited Carnitas with my wife, and another member had separately visited with his wife, and both of us had bad experiences (the burgers varied widely in size and in thoroughness of cooking, and they don't have the usual assortment of condiments at Carnitas).  When we arrived today and saw the long line, my expectations were even lower.  Based on my prior visit, I couldn't imagine the wait would be worth it.  However, Carnitas partially redeemed itself today.
As you might imagine, the menu at Carnitas is more about pork than beef.  They have exactly one beef burger on the menu, though they also have a pork burger and a veggie burger.  One member ordered the pork burger and declared it to be the best burger we have had in any of our outings.  Another member ordered the beef burger exactly the way it comes on the menu.  That member also really liked their burger, though I have to say that it was ordered medium and it was way undercooked.  I would say it was rare.  The member really liked it though.  Another member also ordered the beef burger the way it comes (but with the bacon jam on the side), and that member thought the burger was average.  Then there was me.  I like my burgers with just ketchup, mustard, and pickles.  Carnitas clearly is not the burger joint for me, because THEY DON'T HAVE KETCHUP, OR MUSTARD, OR PICKLES!!!  They do have bacon ketchup, but that doesn't cut it for me.  So, knowing this from my last visit there, I actually brought some ketchup and mustard packets to the restaurant with me.  Still, I would say my burger was below average in taste.  Also, on my first visit I ordered my burger medium-well and it arrived medium-rare, so this was the second time in two visits that I have seen them far undercook a burger.  As a result of my first experience, I ordered my burger well done this time, and I would say they got it right.
We all ordered fries with our burgers and for me the fries were the highlight of the meal.  Those are some good fries.  Really good.  I am not sure what spice mix they put on the fries but whatever it is, it's spot on for my taste buds.  The fries are thin and cooked just right and, well, you get the point — they're good.
Despite the long line to order, lunch seemed to go by relatively quickly and we found ourselves with a bit of time on our hands when we were done.  We took advantage of this opportunity to try Carnitas' doughnut of the month — Samoa.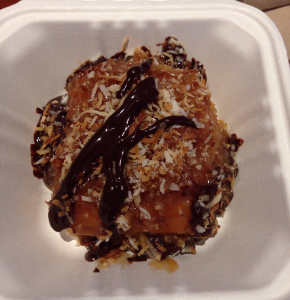 Sadly, the doughnut took a lo-o-o-o-ong time to arrive, and it wasn't worth the wait.  The toppings were good and very Samoa-like, but the doughnut itself just tasted like dry bread — it didn't have much flavor at all.  We did not take the doughnut into account in rating the restaurant.
Overall we gave Carnitas' Snack Shack a B+.  If you are into the exact combination of elements that they put on the beef burger or pork burger, it may rate higher than a B+ for you.  Do be careful about how the burger is cooked though — the way the burger arrives at Carnitas sometimes has little correlation with how you order it.