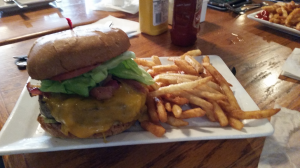 Classic Bacon Cheeseburger
San Diego Burger Club went to The Spot in La Jolla for lunch today.  The Spot has a decent selection of burgers on the menu, including four beef burgers, a lamb burger, a bison burger, a chicken burger, and a turkey burger, and you also can substitute a "Gardenburger® Veggie Patty" into any of their burgers.  We anticipated a sizable number of attendees today and so made a reservation.  As it turned out, The Spot was not very crowded and the reservation was not necessary.  Perhaps that is because the burgers at The Spot rate in the B/B- range.
We observed that the hamburger buns were nicely toasted and held the burgers and toppings well.  However, the burgers themselves were kind of plain, and in some cases overly salted.  The fries are thin fries of the "beer battered" variety.  Our reactions to the fries varied.  Some members really liked them.  Personally I felt they were not particularly hot and were undersalted.
The Spot is on the east side of Prospect Street in La Jolla.  That means you get a great view of the ocean when you exit the restaurant and walk a few steps north.  It also means parking is likely to be difficult and traffic can be heavy depending on the time of day (we did not have much traffic at lunch today).
A definite problem for The Spot though is the fact that George's is 3½ blocks up Prospect Street on the west side of the street.  A burger at The Spot costs about the same as a burger at George's, but the burger at George's is far superior and George's has a fantastic view of the ocean from within the restaurant.  And if the wait is too long at George's,  Smashburger is across the street and a few steps south from The Spot, and their burger rates higher than The Spot as well.
The burger competition appears to be pretty fierce in La Jolla.  At the medium-to-high end, you have the excellent burger at George's that comes with an excellent view.  At the low end, you have the nearly-top-ten burger at Smashburger.  That doesn't leave a lot of room in the middle for other burger joints, but that is where The Spot is competing.  With a rating of B/B-, The Spot has some serious competition if you are headed to La Jolla for a burger.