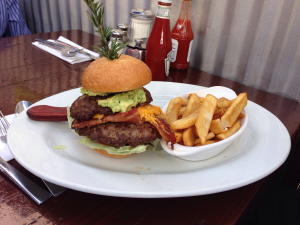 San Diego Burger Club went to Hash House A Go Go for lunch today.  Oh my god am I stuffed (in a good way)!  Hash House A Go Go rated a solid and nearly unanimous B+, and lands in our top 10 list.
The portions at Hash House A Go Go are enormous.  They have six different burgers on the menu and they are all "famous one pound stuffed burgers".  These burgers really are at least a pound.  Heads were turning in the restaurant as the waitress brought us our meals, and a woman at the table next to us tapped me and asked if I was really going to eat the entire burger (only 1/3 of us did).  I was actually surprised that people in the restaurant found the burgers so astounding though .  Although the burgers are in fact very large, every dish at Hash House A Go Go is gigantic — that's their modus operandi.
On to the details.  First the good:  The burger is quite tasty.  It's "large and in charge", and juicy.  The toppings come in good combinations and are fresh and flavorful.  The fries — though of the "large steak fry" variety — were cooked quite well and also were very good.  Everyone was quite satisfied by the end of the meal.  Also there are lots of other delicious dishes on the menu, so if you visit Hash House A Go Go with someone who is not inclined to eat a burger, shame on you for having a non-burger-loving friend, but at least they will have something good to eat while you tackle your one pounder.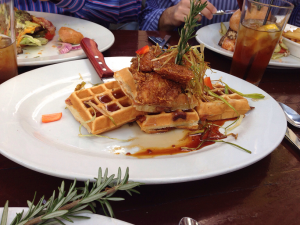 Delicious Chicken and Waffles at Hash House A Go Go
Now the nit-picks:  There are quite a few nit-picks on Hash House A Go Go that keep it out of the A range of ratings.  First, the bun is ridiculously small compared to the burger.  Eating the burger by picking it up is a serious challenge with such a small bun and such big patties and generous toppings.  Second, the burger comes with a large stick of rosemary stuck in the middle to hold it together and make it look fancy (or something …).  We commented that the stick was useful in holding the burger together, but when you pull out the stick of rosemary you may end up with a pile of rosemary leaves hidden in the middle of your burger.  I did (end up with excessive rosemary in the middle of my burger), and that one bite was not so good.  Third, all the burgers came out well done — we were not asked how we wanted them cooked.  At least one of our members was commenting that he would have liked to have seen some pink in the middle of the burger.  Fourth, if you took the burger out of the bun and just ate it plain with a knife and fork, it seemed to be lacking a bit of salt and pepper.  It tasted great inside the bun, but the whole thing was so large that most of us ended up taking part of the patty out of the bun at some point, and in those bites the dearth of spices became evident.  Fifth, the line of people waiting to get into Hash House A Go Go is as long as their meals are large.  Often the wait is 45 minutes to an hour, and there was a huge line of people at the restaurant both when we arrived at 11:40am and when we left at 1:10pm.  With our size party we were able to make reservations and thankfully did not have to wait an hour, but at least for breakfast they do not take reservations and an hour is a long time to wait there.  Even with reservations, the rules were kind of strict.  They hold the reservation for 10 minutes, and everyone is supposed to be there before you can be seated.  That means everyone has to arrive in a 10 minute window (or earlier) in order to keep your reservation!  Last, parking in that area can be challenging.
Even with all those knocks, everyone was very satisfied with their burgers and Hash House A Go Go easily earned a B+ and a spot in the top 10.  Recommended!