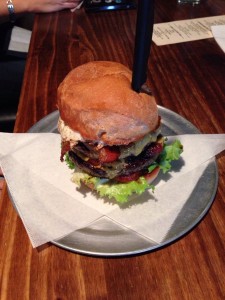 San Diego Burger Club went to The Balboa Bar and Grill for lunch today.  Located at 1863 5th Avenue, it was a bit of a hike for us to get there.  There didn't seem to be a lot of activity in the neighborhood where it was located, and it was quite dark inside.  All of this had me a bit worried about whether this was a good choice.  I'm pleased to report though that the burgers at The Balboa Bar and Grill were surprisingly good — earning an A- and landing in our top 10.
The method of ordering at The Balboa Bar and Grill is a bit interesting.  You sit at a table and review the menu, and when you are ready you go to the bar and place your order with the bartender.  When the food is ready they bring the food to your table.
We ordered a variety of burgers, including the humongous Centennial burger (with added egg) pictured above.  For the record the Centennial burger consists of "Double Beef – Double Bacon – Double American Cheese – Lettuce – Tomato – Onion – Zesty House Aoli".  With a little smashing down, the member who ordered the Centennial burger managed to get his mouth around it, and actually finished the whole thing, seemingly without spilling a drop of grease on his trousers (well done!).  We were all quite pleased with the burgers, with the ratings for the beef burgers ranging from a couple of As at the high end to a couple of B+/A-s at the low end.  There we several comments about how good the buns were, and the fries were a big hit as well.  We ordered the regular fries as well as an order of the garlic fries.  The regular fries were crispy and well spiced with some sort of seasoning salt.  The garlic fries were not as popular and there were several comments about how strong the garlic taste was on the garlic fries.
We were quite pleased with the burgers at The Balboa Bar and Grill.  If you are in the area and are looking for a good burger, The Balboa Bar and Grill is the place to go.