| | |
| --- | --- |
| "Hotter Than Hell Burger" | "Draft Republic Burger" |
San Diego Burger Club went to Draft Republic for lunch today.  This was a good burger outing, with Draft Republic earning an A – – and taking the #4 spot on our top ten list.
There were a number of proclamations of "mmmm" and "this is good" during lunch — a too-rare occurrence that signifies we have arrived at a top burger spot.  Two of us got the signature "Draft Republic Burger".  Both of us liked the burger, though I — being a fan of pretzel buns — asked to substitute the pretzel bun for the default "potato roll" and that turns out to be a good choice.  The "potato roll" was not sturdy enough to hold such a juicy burger, whereas the pretzel bun held up just fine.  Lesson learned:  order the delicious pretzel bun in place of the "potato roll".  Another member got "Draft Republic's Hotter Than Hell Burger (signed waiver required)", which consists of "grass-fed beef, italian sausage, pickled jalapeno, ghost pepper jack cheese, habanero jam, brioche bun".  That burger also was good, though it apparently was neither hotter than hell nor did they actually present the member with a waiver.  We obtained a copy of the waiver on a prior visit and it is somewhat comical.  There is a picture of it below for your comic enjoyment.  Another member ordered the Brie Burger and that too was a success.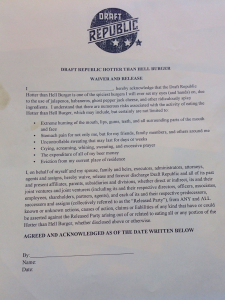 "Draft Republic Hotter Than Hell Burger Waiver And Release"
By default the burgers come with parmesan herb fries.  Those who ate them enjoyed the parmesan herb fries.  Personally I am more of a "potato and salt (or seasoning salt) only" kind of person, so I asked for my fries without the parmesan and herbs, and they happily obliged.  I thought the fries were good, though they were inconsistently seasoned and some were hot while some tasted like they had been sitting for a while.  After I added some of the seasoning salt at the table though, I decided the fries were "good though not great".
Draft Republic also looks very promising as a place to have a burger and beer after work, and play some foosball and table shuffleboard.  They have a large selection of beers and a full bar, and they have games, televisions, "large-garage-door-style windows" that can be opened when the weather is nice, a bunch of delicious-sounding appetizers (e.g., House-Made Crispy Maple Bourbon Bacon Sticks with apple chips, Moroccan Spiced Lamb Corndogs, and Crispy Brussels Sprouts with goat cheese and apple), as well as some desserts that also sound delicious (House-Made Espresso Buttercream Doughnut with espresso ice cream, chocolate tart, Cinnamon Apple Crumble with dulce de leche ice cream and butterscotch, and "milk + cookies").
As a burger destination alone, Draft Republic earns an A – – and breaks into our top ten list at #4.  As an added bonus, Draft Republic also appears to be a good place to unwind after work.  Recommended!