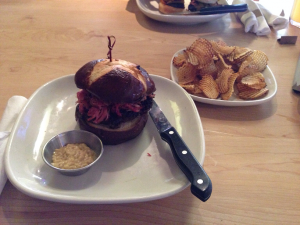 Today was a good burger day!  San Diego Burger Club visited Stacked today and Stacked was on their game.  You know things are going to turn out well when our table resounds with "mmmm", "this is excellent", and "this burger is awesome".
Stacked gets an A-/A.  I have been to Stacked several times and I generally like their burgers.  Today's burger though was very close to everything I could ask for in a burger.  The pretzel bun was great; the pastrami was excellent; the burger was excellent — it was just all-around excellent.  Three out of four of us felt that way about our burgers, and the fourth also liked his burger but gave it a B+ with no negative comments — he just liked some other burgers better.  We know our way around burgers and you don't often hear "this burger is awesome" at our table, so that says a lot.  There also was high praise for the sides — two of us opted for the home-made chips and two opted for the skinny fries.  Both were quite good, though I will say that I personally was not as exuberant about my chips as I was about the burger.  My chips were good, but to me they didn't stand out the way the burger did.  Still, Stacked gets points for offering home-made chips and doing a good job with them.  Stacked also has some really good milkshakes, though we did not order milkshakes on this visit.  We arrived around 11:45am and there was ample seating, but be aware that Stacked can be very crowded at times, with long waits at dinner and on weekends.
Stacked also gets credit for letting you order (and pay) on an iPad right at your table.  You don't have to wait for a waiter to order or to check out, and I have to admit I enjoy building my burger on an iPad.  It seems like what iPads must have been built for.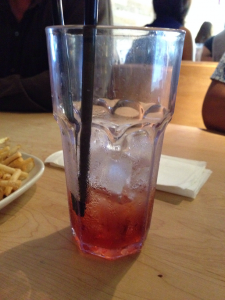 There were some minor knocks on Stacked.  They have Cherry Coke and Vanilla Coke on the menu and they make them by adding cherry syrup or vanilla syrup to regular Coke (we also learned that you can add them to Coke Zero, even though that is not an option on the iPad — you have to ask your waiter).  While this is good in concept, it was not quite as good in execution.  The syrup seems to be too heavy and does not mix well with the soda.  As a result, the bottom of the glass is too "syrup-ey", which you can see from the bottom of the glass of Cherry Coke pictured above.  Stacked also offers only a 1/3 pound burger.  You can add a second patty, but there is no option for a 1/2 pound burger.  I would also say that my bun was over-toasted today, though the burger (and even the taste of the bun itself) was so delicious that the over-toasting did not detract at all from the excellent taste of the burger as a whole.  Finally, the Stacked we visited is at Fashion Valley Mall, and parking at Fashion Valley Mall often is very difficult.
Overall our burger experience today was really excellent.  Stacked definitely earned an A-/A.  Recommended!