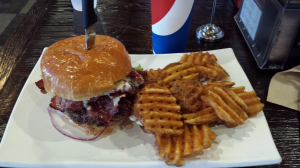 San Diego Burger Club went to Anny's Fine Burger on Kearny Villa for "National Hamburger Day" this week.  Surprisingly, they were not very crowded at lunch on "National Hamburger Day".  Perhaps that's because they got a "B" rating from us, and other patrons already knew they merited that rating.
On the plus side, Anny's has a wide variety of hamburgers and fries on the menu.  There is something for everyone on that menu.  It's kind of odd though that they have 9 kinds of fries (including waffle fries), two kinds of onion rings, assorted other sides (e.g., fried dill pickles), but no tater tots on the menu.  Step it up and get some tots Anny!
I had the Pastrami Burger and the pastrami was quite good.  It was crispy but not overdone, and very flavorful.  Unfortunately the burger itself was kind of plain.  Another member had a burger with cole slaw and other toppings and also really liked the toppings but thought the burger itself was kind of average.  Service was kind of slow for that member's burger as well, with someone in our group who ordered well after him being served first.
Then there were the fries, onion rings, and waffle fries we ordered.  I thought they were "okay" but tasted a bit off.  One of our members commented that he thought the fries must have been cooked in the same oil as the fried fish and had picked up a fishy taste.  There was some debate over that but the consensus was that was probably correct.
Bottom line — Anny's has promise but failed to live up to its potential.  They have lots of burger choices with good toppings, but the burgers themselves are pretty average.  They have lots of potato choices, but oddly they do not have tots and they seem to cook their fries in the same oil as their fish, giving the fries an odd taste.  In one instance, service was a bit slow.  I guess I got my $11.60 worth out of the meal, and I might eat there again if I was in the area, but I wouldn't go out of my way to go back.