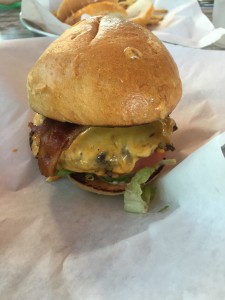 My family and I made a side trip today to Carmel Mountain Ranch's newest eatery, Grub Burger Bar. The Texas-based restaurant has grown to 17 locations nationwide, with the San Diego location marking their first foray into points west of the Lone Star state. Let me reiterate that I was accompanied by my wife, son (five), and daughter (three). My wife was, as always, a great lunch companion and provided good insight into Grub's offerings based on her own burger. The kids however, delight in seizing a chance to test their parents' reflexes and ability to avert culinary disaster (…did I mention that Grub has a full bar and spiked shakes?). Suffice it to say, my focus wasn't entirely on my own meal.
First, let's talk logistics. This is a new restaurant, a little less than two weeks old, and they've not yet worked out all the kinks. They follow the Smashburger model of ordering and paying at the counter, taking a number, finding a seat, and waiting for a staff member to bring your food.
Instead of a number card, we were provided with a numbered electronic puck, allowing the staff to use its signal to determine the exact location to bring our order. Thus, it came as no surprise when my daughter's food arrived promptly at our table. But when I noted a slight error in the order, they realized that the order was for the next table over, removed the food, and placed it next door, leaving my daughter clutching an empty fork (cue the hysterics). Apparently the geolocation on those numbers isn't quite where it needs to be (there was a subsequent "did you guys order a shake" conversation, which made me long for the good old-fashioned number card and metal stand). And, were we slightly less scrupulous, we would have gotten a free margarita out of the deal (ordered and delivered table-side), due to a lack of communication in their dual process of paying for food up front and drinks at the table.
On to the food. They have a diverse set of burgers that each offer something unique. As a way to level set on my first visit, I ordered the Cheesy Bacon Front Porch (pictured), which is a slightly modified version of their basic burger. I ordered it medium instead of their default of medium-well. All of the elements were there, a thick and juicy patty (though not medium, points off for that), fresh lettuce and tomato, crispy bacon, and melty cheese, though there was nothing that made me think anything more than, "this is a pretty good burger." Though other than the patty being medium-well instead of my requested medium, I had nothing specific to detract from the experience.
The real star of the show for me was the bun. Baked hourly in-house, it was perfectly toasted, had a good density and chew, good flavor, and held up very well to the toppings. The fries were also a high point. They appeared to be lightly battered, then fried, with a good blend of spices on them. If you're a fan of crispy shoestring fries, then these are for you. I also performed a little quality control on my kids' chocolate shake, and found it to be a little underwhelming given the space shakes take up on their menu. It came across like a vanilla shake with Hershey's syrup mixed in. Not that I mind using Hershey's to make a chocolate shake, that was the standard for shakes at my house growing up, but I just expected more in this case.
My wife opted for the Morning Glory, comprised of a beef patty, fried egg, bacon, and chorizo queso, served on the aforementioned homemade bun. If you're in the "burger + egg = awesome" camp (as anyone who's ever tried it generally is), this is the burger for you. But be warned, the chorizo queso packs a moderate amount of heat. Also, it was noted that the bacon, while tasty, got a little lost beneath the egg and chorizo queso, and would probably have been just as good without it. Still, were I to do everything again, I'd probably give that burger a try.
Overall, I'd rate the experience a solid B. I think the burgers themselves can reach into the A range (though probably not the Front Porch burger), but I think it wise to give them a couple of months to hit their stride on the operational side of things before chancing another visit.