The below international burger report message received from San Diego Burger Club Executive Director Emeritus Brad Slutsky.
In honor of the last standing Burger Club leader Tony Hill, I decided to fly 8 hours to his home country and try Gourmet Burger Kitchen. Given the name and the plethora of burger joints in the Covent Garden area (I literally passed 3 other burger joints within 2 blocks of it), I had high hopes.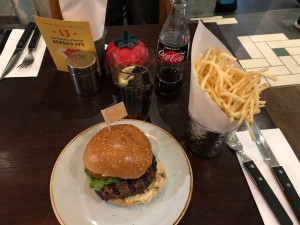 I ordered their Classic burger and "skinny fries". Although GBK is a walk-up-to-the-register-and-order kind of place, they asked how I wanted my burger cooked and I ordered my usual medium-well. I decided to take the Classic "as described" on the menu, rather than remove toppings such as their special mayo sauce. The Classic sounded a bit like a "drugstore burger", and since I was eating at a "gourmet" restaurant I figured they might know what formulation works for their kitchen and customers.
I'll start with the good. The "skinny" fries were excellent. Our British friends might call them "smashing". They were easily an A-. Maybe an A. They give you a good size portion of the "skinny" fries, and I ate every last one.
The burger, though, was strictly a B- affair. First off, I'm not sure why they asked how I wanted it cooked if they were just going to serve it to me medium-rare. Second, the special mayo sauce wasn't very special at all, except maybe in a Saturday Night Live Church Lady "isn't that special" kind of way. I had to scrape off all of the sauce to eat the burger. In the end, even without the sauce, the burger was just kind of average. Taking the sauce and undercooking into account, I felt it deserved no better than a B-.
Having now visited Tony's homeland and the "famous" Gourmet Burger Kitchen, I would say the place should be renamed to Gourmet Fry Kitchen. The fries were excellent. The burger – not so much.