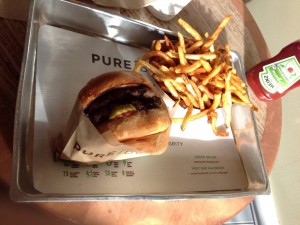 Yesterday I found myself in Carlsbad at 6pm.  I had heard good things about Pure Burger in Carlsbad but had never been there before.  As it turned out, I happened to be within 2 miles of Pure Burger, so naturally I had to go.
I can sum up Pure Burger in one sentence:  Very similar to Five Guys except the burgers aren't as juicy, Pure Burger doesn't have peanuts, and Pure Burger is more expensive.  This is just my personal review, but I would give it a B+/B.
They seem to take pride in their burgers at Pure Burger, describing the beef as "100% Grass-fed, free range beef that's locally sourced and never frozen. All of our beef is ground fresh daily on premises, hand-formed and cooked to perfection."  To me, grass fed beef typically seems more lean and less juicy than other forms of beef, and I think that proved to be the case at Pure Burger.  The burger was good, but it could have been more juicy and flavorful.
The fries were good too.  I had the seasoned fries which were reminiscent of the cajun fries at Five Guys, except the seasoned fries at Pure Burger are thinner and less greasy than Five Guys fries.
Bottom line:  Decent burger.  Worth trying.  Once you've tried it you can cross it off your list and go to Five Guys instead in the future.