| | | |
| --- | --- | --- |
| Red Robin Gourmet Cheeseburger | Whiskey River BBQ Burger | Royal Red Robin |
San Diego Burger Club went to "Red Robin Gourmet Burgers" at the UTC mall for lunch today.  I can't say that Red Robin felt very gourmet after eating on china at The WineSellar and Brasserie at the last meeting, but the meal was certainly acceptable — rating just a tad below a B.
We arrived around 11:45am and the restaurant already had a good crowd, but there were still plenty of tables available.  By the time we left, however, the restaurant appeared to be full.  Speaking of full, the UTC mall is under construction at the moment and has closed off a significant number of their already-too-few parking spaces, so parking there is pretty much of a disaster these days.  Luckily for us, we spotted a car leaving just as we drove up, so the lunch hour started with a nice lucky parking space.
Red Robin has a large selection of burgers on the menu — so many that it can be a bit confusing to figure out which burger to order.  If only they had the same large selection of fried potatoes!  They do offer garlic herb fries and sweet potato fries, but if you just want regular fries your only choice is large steak fries.
For a place that prides itself on its burgers, the burgers were really just okay.  I ordered the Red Robin Gourmet Cheeseburger, which is described on the menu as "The one that made us famous. Featuring Red''s pickle relish, tomatoes, onions, lettuce, pickles, mayo and choice of cheese."  I'm not sure if it was the pickle relish or the mayo, but something between the burger and the bun didn't taste right.  I ate some of the burger outside the bun with no sauce on it and it was better, though still a long way from an A.  The burger does have a nice char on it and tastes fine (on its own), but it is not very juicy.  Another member also ordered a burger with the pickle relish and he also commented that the pickle relish did not taste right.  The buns were good though, and look at that egg on the Royal Red Robin — nice job there.  Basically though the burgers were fine but nothing special — pretty much a B with the pickle relish or mayo or something bringing them down just a bit below a B.
As noted above, the only choice for regular fries is steak fries.  We discussed this on the way to Red Robin and I think it's fair to say that steak fries are not our preferred form of fried potato (are they anyone's preferred form?).  Unlike many places that serve steak fries, Red Robin does cook them through, though perhaps just a tad underdone.  Certainly they are not crispy like they should be though.  Red Robin does offer "bottomless fries" so they get some credit for that, but with the fries just barely under and with the waiter asking if you want more fries at the same time they are clearing your plate, I'm guessing they are not going broke from people ordering tons of fries.
There are a couple of nice surprises at the end of a Red Robin meal.  For one, they have some nice looking desserts, including this tower of cronuts (they call them Towering Doh! Rings™) that we spotted on the menu.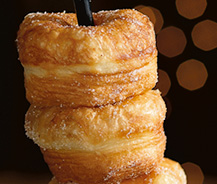 By the way these are described on the menu as follows:  "Doh! Why didn't we think of it before? Of course it's delicious when croissants mix with donuts! Enjoy this tasty towering treat with layers of flavors served with hot fudge and berry dipping sauces."  Yeah — I'll be back for those.  Also, they have what appear to be Android tablets on the tables that you can use to order appetizers and pay your bill, so we were able to pay the bill reasonably quickly with each person hitting a couple buttons and swiping their credit card — nice touch for the techies in the restaurant, though maybe a little confusing for some people (but you don't have to use the tablet, you can pay the waiter).
Bottom line:  Red Robin makes an okay burger and offers bottomless fries that also are okay.  In doing so Red Robin earns a grade just a tad below a B.