| | |
| --- | --- |
| Bacon Cheeseburger | Niman Ranch Beef Burger |
For the final stop on our 2015 summer beach tour, we went to George's at the Cove today. The Ocean Terrace on top of George's has a fantastic view of the ocean and seems to be perpetually busy, so we were apprehensive about whether we would be able to get a table.  We arrived at 11:40am and there were in fact tables available.  However, all the tables that would fit our party were at least in part exposed to the sun, and it was 87 degrees today in La Jolla.  So, we opted instead to eat on the "bar" level, which is one level lower, has the same menu, and has the same great view as the Ocean Terrace without the sun beating down on you.  This turned out to be an excellent choice, as it was oppressive in the sun today and was much more moderate on the "bar" level.  By the way the "bar" level does have a bar as well as a common high-top table, but it also has many regular tables where a party can be seated together at their own table.
George's scored an A- – today and moves into the 5th spot on our top 10 list — sadly bumping Smashburger from the top 10.  The grading for George's was polarized.  Those who ordered bacon cheeseburgers all gave George's an A, which is high praise.  Those who ordered other types of burgers gave George's a B.  I typically order my burgers pretty plain so I was in the latter category.  For me the burger was not that juicy or flavorful.  Another member ordered the burger with blue cheese and "sweet onion marmalade", and he felt the blue cheese overpowered the burger.  The members who ordered bacon cheeseburgers really liked them though — from the first bite they were singing the burgers' praises.
Two things we all agreed on:  the fries were excellent, as was the view.  The fries are skinny fries and were crispy and hot.  I felt they needed a little more salt than they were served with (others disagreed), but once I added salt they disappeared from my plate pretty quickly.  Since a picture is worth a thousand words, all I will say about the view is "look at the picture of the view below."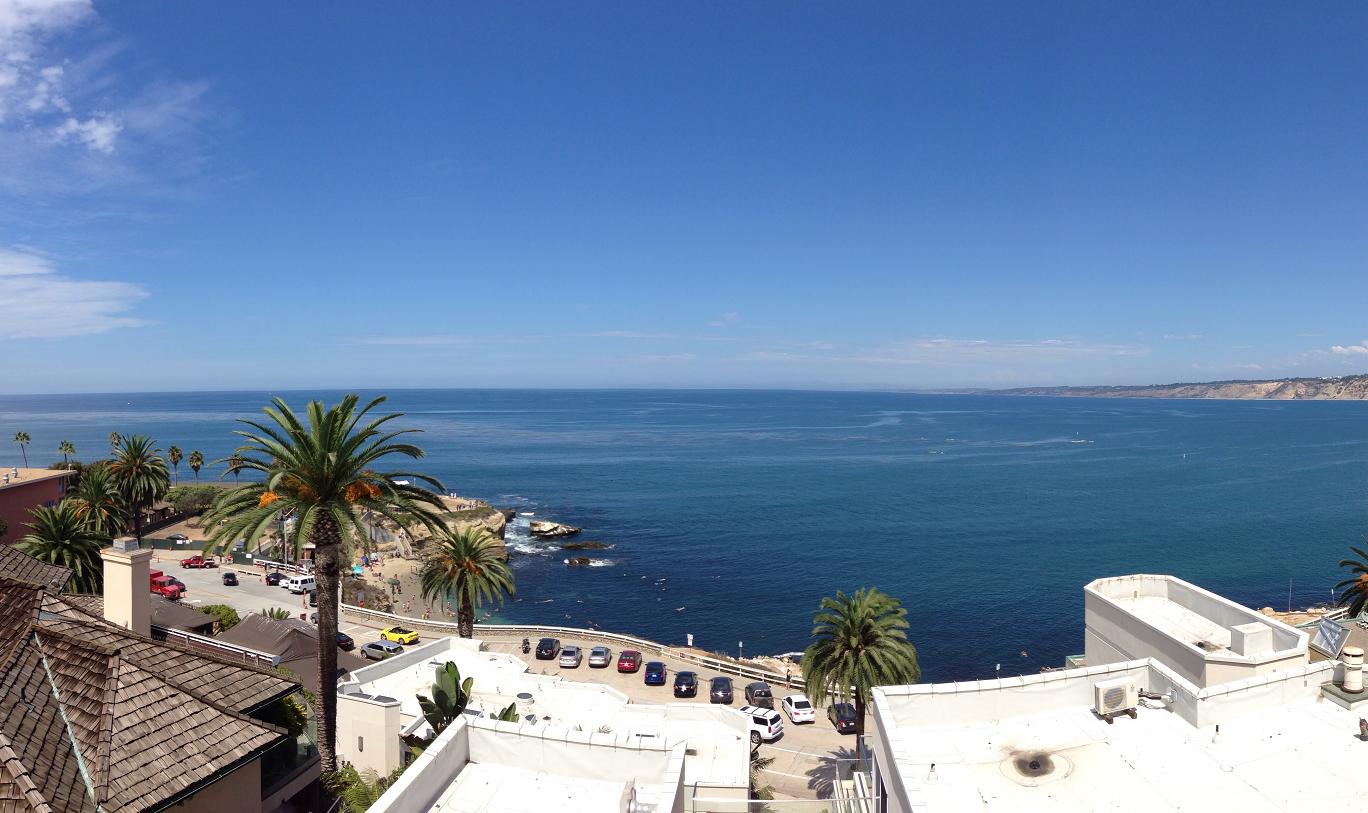 Although it may be a blasphemy on a burger blog, I will add that George's has a varied menu with lots of really good non-burger options as well.  So if your fellow diners don't have the same appreciation for a great burger that you do, there are many great options for them as well.  George's also has some excellent desserts such as "Peanut Butter Layered Icebox Cheesecake", "Sticky Toffee Pudding Cake", "Chocolate Raspberry Layer Cake", etc.
So George's receives an A- – and sails into our top 10.  With great food and a great view, George's should be on your list of places to eat a burger in San Diego.  George's can get very crowded though, so make a reservation when possible, and think twice before choosing a seat in the sun on a hot summer day.