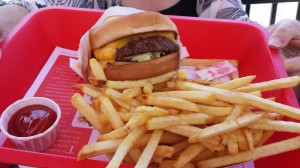 San Diego Burger Club recently visited In-N-Out Burger.  This was the first Burger Club meeting that was attended by our Summer Intern, and initially we assigned her the task of writing the review.  However, knowing how fervent some people are in their affinity for In-N-Out Burger, I decided it might be good if her first assignment was something other than dissing a San Diego institution.  Therefore, I am writing the review, with input from her summary.
There is no easy way to break this to the In-N-Out fans, so I am just going to come out and say it — it's a B burger folks.  Dress it up any way you want, order off the secret menu, whatever — it's still a B.  That was the consensus of our group, and I have to say I agree.  In the words of our Summer Intern, "the honorable burger experts gave it a B, despite a couple ratings of a D from Californians who probably don't want to be named for fear of being called traitors to their homeland's burger cult".
I have tried and tried to like In-N-Out Burger, because a lot of people rave about it.  I find their regular burger very ordinary though — like, it reminds me of McDonald's.  People say the fries are good because they are cut fresh on-the-spot when you order.  Fresh does not always equal good though.  In my opinion the fries are too potato-ey.  You can really taste the potato in there, kind of like when you eat a thick steak fry.  That may be good for some people, but years of eating burgers and fries have trained my taste buds to like the fried taste.  As a result, tater tots, curly fries, waffle fries, and yes, McDonald's fries are all to my liking.  But In-N-Out fries — pretty ordinary.  We even tried the "well done" fries off their not-so-secret "secret menu".  The verdict?  The "well done" fries taste like … cardboard.  Yes, really.
We did have some fun with the secret menu, with one member ordering a "Flying Dutchman", at least one ordering their burger "Animal Style", at least one "Animal Style" fries, and several of us ordering "well done fries".  I also tried to order my burger with a "Donut Bun", but the cashier at the Mira Mesa In-N-Out Burger said they did not have "Donut Buns" there.
I know there will be some people in San Diego who will take exception to this review, but it is what it is.  I have eaten enough burgers and eaten at In-N-Out enough times to have confidence this is a reasonable assessment, even though I know In-N-Out has a significant following.  Our view:  Go there if you are in a hurry and/or don't want to spend a lot on a burger.  If you are an In-N-Out fan, that's great — it's hard to beat fast, cheap, and good.  If you don't have any predisposition in favor of In-N-Out, we think you will find it fast, cheap, and average.