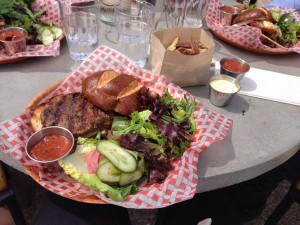 San Diego Burger Club went to Green Acre at Campus Point today.  Four of us went and opinions were very divided, with two members rating the burger an A- and two rating it a B.  We compromised and agreed we would rate it a "B+ with a high standard deviation".  

 I was one of the B raters and in my particular case I think a B is generous.  In fairness I like my burgers relatively plain though (pickles, ketchup, and mustard only in most cases) and here they had pickles, some kind of custom ketchup formulation that was not to my liking, and no mustard in sight (maybe they had mustard in the back — I didn't ask).  Also, in my opinion my burger was overcooked, kind of dry, and not that flavorful.  On the other hand, the two A- ratings came from people who ordered the "Fancy" burger, which comes with brie, slow-roasted tomato, leek, and, in one case, bacon.  So, with respect to the burgers, maybe Green Acre is a good place to go if you like a "Fancy" burger.  Those of us who ordered the "Classic" burger were less impressed.
Fries:  Okay let's talk about the fries for a minute.  It may not be obvious from the picture, but their only form of fries are something they call "root fries" which consist of three kinds of potatoes — purple, sweet, and kennebec.  In my opinion there are four acceptable forms of potato to go with a burger, but sadly for Green Acre purple and sweet are not among them.  My list consists of kennebec, curly, waffle, and tot.  

 Putting that aside, several of us felt that the fries were undercooked / not crispy enough.
Other Sides:  Why oh why do they put a salad on your plate when you are ordering a burger and fries?  I mean, you didn't exactly go for the low-calorie choice — are you really likely to want a salad?  (actually one of us did eat the salad — the rest picked at it or left it alone)  Also, I have always wondered why the thing pictured below is put in salads.  Don't know what it is — don't want to know — don't want it on my plate.  

 One of our members looked at this and aptly quoted Ron Swanson from the TV show Parks and Recreation:  "There's been a mistake.  You've accidentally given me the food that my food eats."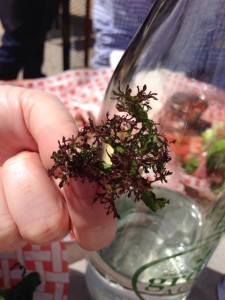 Drinks:  No Coke Zero.  No Diet Coke.  They do have some kind of organic cola or something, but they don't have a diet version of it.
Atmosphere:  For at least two of us this was our first time going to Green Acre, and it was hard to find.  There are several buildings with 10300 on them and we weren't sure which one housed Green Acre or where Green Acre was within them.  After asking several people we managed to find it — it's in the back of the northern-most 10300 building.  We arrived around 11:50am and it was not crowded at that time, but it did get pretty full during the lunch hour.  We sat outside and, while it was only supposed to be a high of 68 today, something caused it to get surprisingly hot over the course of the lunch hour.  Despite the forecast I think the temperature got to 70 or so, but also the direct sun exposure and possibly the fact that we were sheltered from wind caused the outdoor dining area to get uncomfortably hot during lunch.
Cost:  Some of our members work in the complex where Green Acre is located so we got a discount on our bill.  With tip our lunch ended up being about $10.50 each, which is pretty good for a burger in/near La Jolla.  Keep in mind though that we shared three orders of fries rather than each getting our own, and everyone had water to drink.  A "Fancy" burger is $10, "root fries" are $3, and if you want one of their fancy sodas or iced tea or something, I'm sure you have to add a few bucks more.  So, I'm guessing a typical order with tip and without discount will be more like $18.
As you might guess, Green Acre was not my favorite burger joint.  Our members who ordered "Fancy" burgers did really like their burgers though, so I hope they will chime in with additional comments.