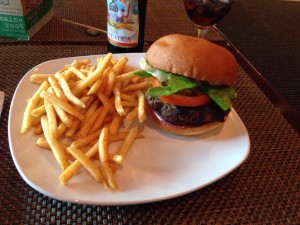 Last night I found myself in Carlsbad as I picked up my car from its annual routine service.  What do you do if you are a stranger in Carlsbad around 7pm?  I suggest you pay a visit to Craft Burger.
Craft Burger is in the Village Faire shopping center at the corner of Carlsbad Village Drive and Carlsbad Boulevard.  It's not easy to spot — it's on the east side of the shopping center facing Washington Street.  You should know right at the start that parking is likely to be dicey.  There are lots of parking spaces in that shopping center, but they always seem to be full.  There is a lot of street parking in the area too — typically also full.  Good luck with parking.  Enough said on that topic.
When you walk into Craft Burger there is a cash register immediately on your right.  You order there and get a number, then you sit down and your food is delivered to you.  They fancy themselves as a healthy food option, and are only too happy to tell you about the fare.  I ordered "the house craft" burger, but asked about the "craft sauce" first.  Honestly, I was expecting a quick answer along the lines of this.  Instead, I got a pretty lengthy description that I was not prepared for, and as a result I can't really tell you what is in the "craft sauce".  I remember that the description ended with something like this though:  "so in summary, it's kind of like Thousand Island dressing — but not — it's more flavorful and a lot more nuanced".  For the record, I am not a fan of Thousand Island dressing and I am pleased to say that, other than a slight resemblance in color, the "craft sauce" did not remind me of Thousand Island dressing.  Certainly it was not as thick, and I thought it was more flavorful.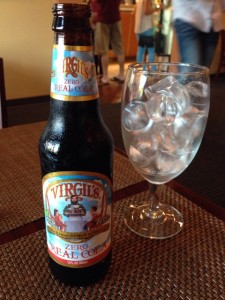 So the reference to Thousand Island dressing didn't have my hopes up very high, and the fact that they don't have Coke Zero or Diet Coke also kept my expectations low.  The closest thing they had to Coke Zero was this $3.50 bottle of "Virgil's Zero Real Cola".  I have to say though, Virgil makes an okay bottle of diet cola.  I would prefer a Coke Zero over Virgil's version, but Virgil's wasn't bad.
Then my burger arrived.  I immediately noticed that it looked quite nice and that the patty was pretty thick.  One bite and I knew I had a winner in my hands.  Juicy.  Flavorful.  I'm thinking "at least an A-".  The fries were quite good as well.  They are thin fries, cooked right, with a generous amount of seasoning salt on them.  Maybe even a tad too much seasoning salt, but good.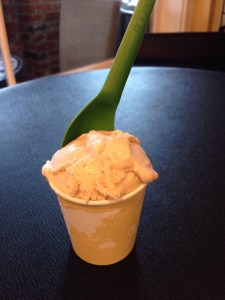 Craft Burger also apparently is known for their "frozen custard".  I can't say that I sit awake at night thinking that what I am really missing in my life is frozen custard, but apparently it's a hallmark of this place so I thought I should try it.  It might not look like it, but that's a strawberry frozen custard pictured above — the only flavor they had last night.  I thought it was good.  It was light and airy, flavorful, maybe a bit eggy.
Bottom line, Craft Burger serves a juicy and flavorful burger, with good fries, a different kind of soda, and a different kind of dessert.  I really liked it.  We'll have to see if we can get the full San Diego Burger Club out there to rate it.