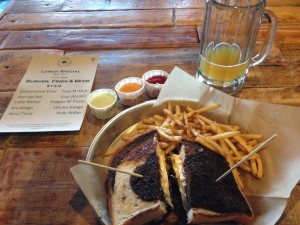 The new San Diego burger club schedulers are embarrassed to say that it took previous leader Brad traveling from ATL in order for a burger club meeting to take place. The venue was Ocean Beach, Raglan Public House, I chic (for OB) location a block away from the main drag (Newport). Located on Bacon Street, it already had a mark in its favor.
The Raglan is nicely decorated for the holidays and there was a $13.9 lunch special which gave you one of 10 burgers, an order of shoestring fries and a beer, hard to turn down. The three of us each tried a different burger, two with an added fried egg and one without (since the burger was already fully loaded!). The burgers were all really good, the fries were excellent and for the brace that were wasabi & red-pepper aioli to go with the ketchup.
The consensus vote was A-, really good burgers that are well worth a visit. Thanks to Brad for flying in to keep us honest on burger club.