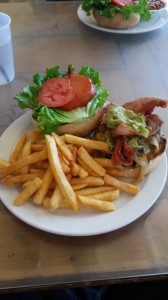 Our latest sojourn through the ground beef gauntlet took us to Tidewater Tavern in Solana Beach.  After the blazing heat in the San Diego area, we were fortunate to have perfect burger weather, with clear blue skies and a temperature in the mid-70s.  Tidewater is very much a tavern, featuring several beers on tap in addition to its menu of burgers, fish tacos (for which they are known), and other standard tavern fare.  Between the five attendees, we had a fair sampling of the various patties and sides offered.
Overall, the burgers were in the "good" category, falling in the growing middle or B+ range.  That said, there are a lot of positive things to be said for Tidewater's burgers.  For a start, the buns were, in all but one case, hearty enough to hold up to the toppings and juices from the patty .  And having myself ordered and downed the Tidal Wave burger (which comes with bacon, guacamole, grilled onions, cheese, mayo, lettuce, and tomato) without issue, I put the outlier in the "user error" category.  The beef itself was flavorful, but not overpoweringly so.  And at a half pound, it certainly filled the cracks.  The burgers all came with lettuce and tomato, which was fresh and flavorful; few things are more disappointing in a burger than finding flaccid lettuce.  And the bacon, which two of us ordered, was crisp and given in sufficient quantity to have some with every bite.
We sampled three sides: the french fries, potato chips (cooked in-house), and chili beans.  The beans were noted as spicy, very much like chili….without the rest of the chili.  Both the fries and chips were seasoned with, near as we could discern, salt, sugar, and paprika.  I, for one, was a fan.  This is the second time we've enjoyed fries with a bit of sugar, and I really think it adds something.  The chips, while enjoyable, were not always evenly cooked.  I had one somewhat undercooked chip, which, while not unenjoyable, did not have the crunch that I generally look for in a potato chip.
And for you health nuts out there, it's worth noting that Tidewater offers both veggie and turkey patties on the menu.  We sampled the veggie, and though it was surrounded by all the same tastiness the other burgers had, the patty itself was found to be underwhelming.  Also, be aware that the standard burger comes with both mayo and grilled onions.  They are two staples on my burgers, so I was only to happy to see them, but for those with a more discriminating palette where condiments and additions are concerned, make sure to note any changes with your server.
In sum, if you're looking for a filling, tasty burger in a very laid back atmosphere, Tidewater Tavern will fit the bill, particularly if you're looking to pair it with a beer or two.  You won't find any amazing innovations in the offerings, but you definitely won't leave unsatisfied.