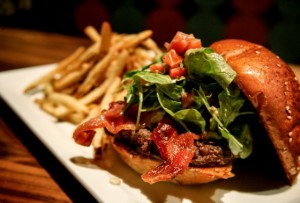 Our most recent outing took us to Eureka! in La Jolla's Westfield UTC mall. Despite a massive construction project right next to the restaurant, its patronage has not suffered. Whether this is a testament to the quality of their cuisine or the impressive assortment of micro-brews is up for debate; I believe further research may be required.
We had a wide sampling from the burger menu, ranging from The Original Eureka! burger with fries to the Fresno Fig Burger sans bun with a salad. And to any low-carb enthusiasts out there, the salad is a high point. Very tasty, well dressed, and actually has some toppings. Too many places simply throw some oil and vinegar on mixed greens and call it a salad. Overall, ratings for the experience fared well, bouncing between B+ and A-. Inconsistency on the cook temp of the patty lost it some points (most agreed that the medium was on the rarer side, and in one case, extremely rare).
Highlights included a solid showing from the french fries, which were crisp and well-seasoned. Additionally, those who opted for an egg on their burger were not disappointed, further confirming my belief that you simply can't go wrong putting breakfast foods on a bun.
While the speed of service faltered a bit toward the end of the meal, it was a pleasant dining experience with good company and a very interesting discussion on the negotiation tactics of Russian businessmen in the 90's. If you find yourself at UTC during the lunch hour and have to choose between Red Robin and Eureka!, the latter will provide you a measurably better experience.