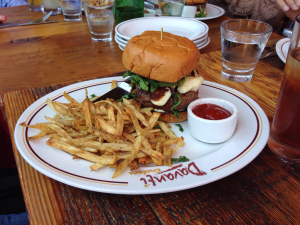 San Diego Burger Club went to Davanti Enoteca in Del Mar Highlands for lunch today.  The Yelp reviews for Davanti's burger are through the roof, so of course we had to check it out.  There was a wide variation in how people rated Davanti's burger, but the average of our grades came out to a very respectable B+/A-.  That puts Davanti in 10th place on our top 10 list, and edges out Bare Back Grill which has been on the list for nearly two and a half years.
It was sunny and hot in Del Mar today, but parts of the patio at Davanti are completely shaded so we were able to sit on the patio and enjoy the outdoors without being overheated at all.  We had a very pleasant and attentive waitress.  She was not quick to take our order but after we received the food she checked on us regularly and refilled drinks without anyone needing to ask.
Several of us rated the burger and overall meal an A or A-, so there is a lot to like in Davanti's burger.  A number of people felt that the burger was too salty though, which resulted in a couple of grades in the B and B- range.  Also, most of us ordered our burgers medium and received burgers that were pretty medium, but two of the burgers were overcooked and were medium-well to well done.  Note that there is only one burger on the menu at Davanti — the "Davanti Burger".  If you prefer burgers where the patty is not made of beef, Davanti is not going to be your go-to place for a burger (though they have a number of excellent non-burger dishes).
The fries were kind of interesting.  They looked like regular skinny fries, but they tasted more like peppery potato chips.  Some of us liked that and some didn't.  I have been to Davanti before and in the past their fries have not been quite so crisp (they were plenty crisp, but not to the point of being potato chips like they were today).  I actually liked their fries both ways so personally I'm not complaining, but some people didn't like the fries as much.
On average Davanti receives a B+/A- and grabs the final spot on our top 10 list.  Some of us liked it more than others, so the Davanti Burger may or may not be for you.  Those of us who liked it though thought it was quite good, so I think Davanti should be on your list of burger places to try in San Diego.