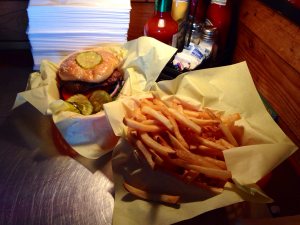 San Diego Burger Club visited Rocky's Crown Pub in Pacific Beach today.  Rocky's claims to have the best burgers in San Diego and, while we didn't quite agree with that assessment, we do think their burgers are good.
Rocky's earned a B+ today for very juicy burgers and very good fries.  They missed just a bit on consistency though.  I cut my burger in half and half of it was definitely in the A- range, but the other half had too much spice in it.  The fries were similarly inconsistent.  The ones that were thoroughly cooked were really good, but some of the fries were undercooked.  We also thought the buns were a bit soft for burgers that were this juicy.  I for one made quite a mess and needed at least four large napkins to clean up afterward.  Parking also was a bit challenging, though after a few minutes of driving around we found a space that was not too far away.  Getting a table can be a challenge too.  We arrived around 11:50am and we got the last table — everyone else had to sit at the bar or at the narrow ledge around the wall.  I suggest you get there by 11:45am or earlier if you want decent seating.  Then came the check.  We were able to share a basket of fries among the three of us and two of us did not order sodas — so the entire bill was just $24 (plus tip).  That's pretty hard to beat for a burger of that quality.  Speaking of money, Rocky's only takes cash — no credit cards.  So make sure you have some cash before you go there.  Finally, Rocky's has a very simple menu:  1/3 pound burgers and 1/2 pound burgers, with or without cheese, fries, and drinks — those are your only choices.
Everyone enjoyed their lunch at Rocky's.  It's hard to beat for the price, and regardless of the price those are some good burgers.  We'll be back.