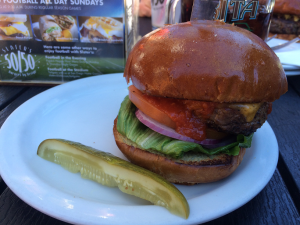 San Diego Burger Club went to Slater's 50/50 in Point Loma for lunch today.  We have been there several times but somehow we had not gone as a group since we started rating burger restaurants, so today's was Slater's day.  Or, maybe you would say it was not Slater's day since they rated a B+/B which lands them just outside the top 10.
In case you don't know, the 50/50 in the name is for their "50/50 patty", which is made of 50% ground bacon and 50% ground beef.  I should note at the start that I do not eat bacon, so the main attraction at Slater's — the 50/50 patty — is not my thing.  That said, everyone else on the trip did get the 50/50 patty and my rating was consistent with the other ratings.
Basically a couple of people really liked their burgers while several of us felt there was not really anything special about them and a couple of them were on the dry side.  One of us (at the high end of the rating scale) ordered their burger with lettuce in place of a bun and really enjoyed the burger but felt the lettuce was not adequate to hold a burger with "wet" toppings such as onions.  Slater's offers a variety of sides such as fries, sweet potato fries, fried dill pickle chips, beer battered jalapenos, and beer battered onion rings.  We got the fries and thought they were well seasoned.  However, the fries were moderately thick and they were not all cooked well — some were very good but some were a bit undercooked.
Slater's also has some nice dessert offerings, including a "bacon brownie", a "bacon blondie", bread pudding, and a "cococarma" (consisting of a warm shortbread cookie, coconut, caramel, chocolate, and ice cream).  They also have a good collection of milkshakes including (yes, you guessed it …) a Maple Bacon shake, a Mint Chocolate Guinness shake, a Bananas Foster shake, a Graceland shake (chocolate, banana, and peanut butter), and a S'more shake (chocolate, toasted marshmallow syrup, and graham cracker).  We got a S'more shake and it was very delicious.  Highly recommended.
A word about the atmosphere at Slater's:  The Point Loma location is tucked away in a shopping center near the airport, making it a bit hard to find if you have never been there before.  Also, airplanes take off in the direction of Slater's and frequently fly right over the restaurant at relatively low altitudes — not scarily low, but low enough to be very loud and interrupt your conversation.  On the plus side though, Slater's has this excellent man/woman-sized statue of a hamburger in the middle of the restaurant.  You know you are in the right place when you see this kind of attention to detail.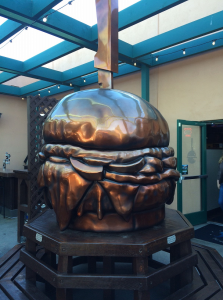 I have been to Slater's many times and my overall observation is that it is polarizing.  As with the ratings today, some people really like it and some people think it is fine but nothing special.  I think Slater's should be on any burger-lover's list of places to visit in San Diego, in case you prove to be in the category of people who love it.  In the worst case scenario, if you find their burger to be average you can top it off with an excellent dessert or milkshake.