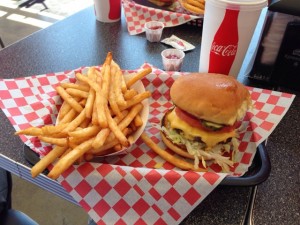 San Diego Burger Club went to Buddies Burgers in PB today.  Buddies is in the same location where Fatburger used to be — right near the pier, Kono's, and (oh … yeah!!!) The Baked Bear.
Everyone enjoyed their burgers though the ratings varied significantly (from B to A).  In the end we settled on B+/A-.  I got a Double Buddie on brioche with Buddie Tots and it was very satisfying.  I would say it was not quite as juicy as some burgers I have had, but it was quite good.  Also, kudos to Buddies for having tots on the menu — too few places do!  In fact, Buddies has an excellent variety of potatoes on the menu, including Buddie Fries (beer-battered fries that are really quite good), Good Ol' Fries (they reminded me of In-N-Out fries), Buddie Tots, Sweet Potato Fries, Chili Cheese Fries, Buddie Rings, and Buddie Chips (described as "Potato chips, only better!").  They also have a Freestyle Coke Machine, though it was not well cared for so several soda options were empty and the spout came off while one of us was getting his soda (we later observed it being reinserted — bare handed and questionably hygienic — back onto the machine).  With soda, my meal came to $10.85.  That's a lot of satisfaction for the money.  We also noted that the burgers were well proportioned — even the burgers with lots of accoutrements were easy to pick up and held together well during the meal without spilling out the side when one bit into them.
This location also holds the distinction of being a few steps from The Baked Bear, where we retired after our burgers to get some custom ice cream sandwiches.  And, it's all right near the boardwalk along PB, so if you have the time, you can walk it all off along the boardwalk while enjoying the sunshine, beach, and waves.  There is a lot to enjoy in this area, and Buddies is an excellent addition to the neighborhood!