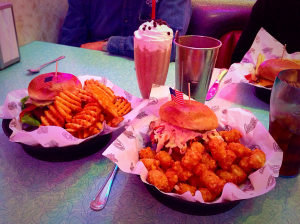 San Diego Burger Club went to Corvette Diner today.  The Corvette Diner website describes the diner as follows:  "Rock n' Roll, burgers and shakes rule at the Corvette Diner! A '50s throw-back, with sassy waitresses in poodle skirts and bouffant hair-dos. It's more than just a place to eat, it's a destination."  We found this description to be fairly accurate, especially where it concerns our sassy (and fun) waitress.
We enjoyed the vibe in this place, with the throw-back decorations, old-fashioned booths, actual corvette in the dining room, sassy waitresses in 50's getups, music from Saturday Night Fever and Animal House and The Jeffersons, American-flag-toothpick in your burger, and adjoining game room complete with ski-ball and (yes!) a combination Ms. Pac-Man / Galaga machine.
The food was good, but not great.  Everyone thought their burger rated a B.  I tried the Pastrami Burger and the toppings were all wrong and detracted from the burger taste, and the pastrami itself was too thick and too wide, so that when I bit into the burger I could not bite through the pastrami and ended up with a big chunk of pastrami pulling out of the burger with each bite.  Eventually I just took the pastrami and slaw off the burger which did improve it, though not much beyond a B.  We also tried a variety of their potatoes in the forms of fries, waffle fries, and tater tots.  The consensus was that the tots were the best of the bunch and I have to say they were quite good — cooked well, served warm, and very tasty after adding some salt.
The drinks were good too.  They have a variety of custom drinks and milkshakes.  We tried their chocolate shake which was good and apparently has 3 scoops of ice cream in it, making it very thick (too thick to drink through a straw).  We also asked them to customize some diet cokes and add vanilla flavoring to them.  They were happy to do so and the result was quite tasty, though they were a bit heavy handed on the vanilla flavoring.
With a generous holiday tip, all of this set us back about $22 each.  I would say that's a bit pricey considering the "good but not great" quality of the burgers.  It was a fun experience though — definitely worth visiting if you are looking for a different burger experience.
One of our members commented that they had been to Corvette Diner several times and typically found it to be very crowded and difficult to get a table.  That was not the case today.  There was plenty of seating throughout the lunch hour while we were there.  Perhaps we got lucky, or perhaps they are more crowded on the weekends than on weekdays.  Whatever the case, we found the atmosphere fun and relaxed until just before we left — when a child at the table behind us started wailing about something.
We enjoyed the experience at Corvette Diner.  There is a lot to be said for the place, though unfortunately where it counts the most for us (i.e., in the burger department) their hamburgers were "good enough", but not great.