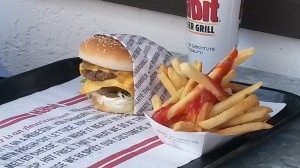 Yesterday's San Diego Burger Club adventure took us to The Habit Burger Grill on Lomas Santa Fe Drive, a Santa Barbara staple that has expanded to over 50 locations in California, Arizona, and Utah.  And they've achieved that level of expansion for good reason; I think all in attendance agreed that they're doing something right.
Right off the bat, The Habit got points for both speed and accuracy.  Our meals were ready quickly and to our specifications, including one off-menu order of half fries half onion rings.  Between the six members in attendance, we got a fair sampling of their offerings, including one lettuce-wrapped burger and a couple orders of their tempura-fried green beans (yum!).  I myself opted for a wheat bun, which is a nice alternative when making a feeble attempt to justify to yourself that you're actually doing something healty…at a burger joint.
Although I'd put The Habit in the same general strata of establishment as Five Guys and In 'n' Out, they stand out in a couple of important ways.  Firstly, although it's in the "fully-cooked patty" family, I find the burger itself to be a bit more flavorful and juicy.  Secondly, the breadth of their menu gives diners a number of options if they're looking for a unique experience.  In addition to the green beans and bun/lettuce options noted above, they offer sweet potato fries, shakes (sadly unsampled this visit), various chicken sandwich options, a veggie burger, tuna burger, and a few salads.  So next time you're going out with an overly health-conscious diner, fret not.  The Habit can meet your burger needs while providing greenery to your less daring partner.
The experience received high marks all around.  The fries were noted as being better than our return visitors had remembered, and well-salted…possibly too well in one case.  The burgers themselves were well-seasoned and juicy, and were complemented by appropriate amounts of lettuce, tomato, pickle, and grilled onion.  The only thing you may want to watch out for is the standard addition of mayo.  While I myself am an ardent supporter of a healthy helping of mayo on a burger, it is not for everyone, so make sure to note that in your order.  From everything I saw, they'll be only too happy to accomodate whatever changes or substitutions you can throw at them.  Our overall grading of the meal worked out to a solid B+, though I may personally shade a bit higher, if only for nostalgic purposes, being a Santa Barbara native.