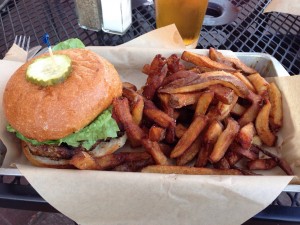 The Mrs. and I went to 83 Degrees in Carlsbad for dinner tonight.  I would say the results were mixed. I liked it but thought there were several problems that adversely affected the grade, so I gave it a B+.  My wife, on the other hand, really liked the atmosphere and the juicy, chargrilled taste of the burger, so she gave it an A-.
On the plus side, the burger was juicy and did have a nice chargrilled taste.  Also, the fries are handcut (very uniformly) and cooked until they are nice and crispy.  83 Degrees also has a large selection of beer and other drinks.
On the negative side, the bun was quite dry, the burger needed more pickles, and the service was slow.
The atmosphere was the source of some contention.  The restaurant has a nice outdoor patio, but our reaction to it varied greatly.  My wife enjoyed it. For me, the yelling child, the ambulance siren, and the dog that splashed a little water on me kind of ruined it.  I also visited the inside of the restaurant and found the atmosphere there equally unappealing.  There was some kind of game on the TVs and people were drinking and shouting.  I have nothing against drinking and watching a game, but if I'm not there to watch the game, I don't need people yelling during my dinner, especially when it's only 6:30pm.
Overall, it wasn't really what I was looking for in a $40 burger dinner.  It was good, but with Craft Burger just a few blocks away, 83 Degrees has some tough competition.  Judging by my wife's reaction though, 83 Degrees may be a good choice if you are out on a date.