| | |
| --- | --- |
| Hoffa Jalapeno Burger | Tons of Fun Pastrami Burger |
For our first meeting of 2016, San Diego Burger Club visited a perennial favorite — Nicky Rottens.  Unfortunately for Nicky Rottens, they were not on their game this time.  They scored a B+ and were eliminated from the top 10 for the time being.
First the good:  The Coronado location of Nicky Rottens is close to the water and from many tables you have a nice view of the bay.  We also were able to find street parking right in front of the restaurant, and the parking meters only charge 25 cents for an hour of parking.  Also, most of us ordered the tater tots and we were all quite happy with the tots.
Now for the bad news:  The burgers just were not that flavorful on this trip.  Take my pastrami burger (pictured below) for example.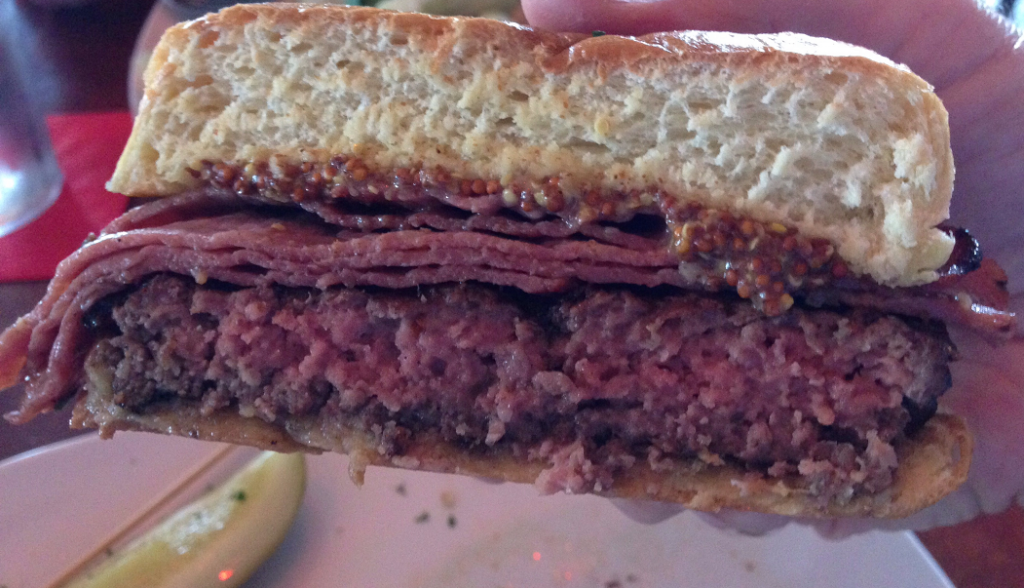 It was supposed to be cooked medium-well.  I think we can all agree that it is cooked less than medium-well.  Also, we all experienced soggy-bun-syndrome.  Look at the top bun and the bottom bun in the picture.  The top bun is maybe 1/2 inch thick.  The bottom bun is soggy and maybe 1/8 inch thick or less  The pastrami on the burger wasn't that good either.  Like the burger, it was undercooked.  Others noted that their cheese was not very flavorful, that the "Rotten Sauce" was not very flavorful, etc.  Basically, Nicky Rottens was missing their usual magic on this trip.
There is no need to keep rubbing it in.  We have been to Nicky Rottens several times and in the past they have consistently scored quite high.  This time they were off their game though.  Let's hope it was a temporary lapse and not the start of a downhill slide for the restaurant.  We certainly will be back to check up on them and see.